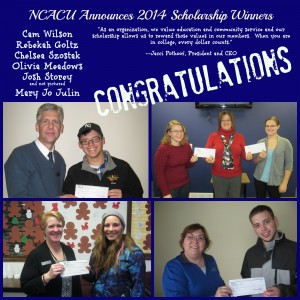 NCACU, with support from the membership, was able to award 6 local college students scholarships to help defray the cost of education.  The scholarship fund is supported through the Skip-A-Payment program that members can use on all eligible loans throughout the year.  This year, six students were chosen as recipients of the scholarship.
Cam Wilson is a junior at Central Michigan University.  He is a Psychology Major with dual Leadership/Communication minors.  He is a member of the Leadership Institute and serves for Leadership Safari, Relay for Life, and Sigma Pi.
Rebekah Goltz is a junior in the Honors College at Eastern Michigan University.  She is a double major in Anthropology and Linguistics with a minor in History. She serves her community through a mentoring program, a service sorority and her church.
Chelsea Szostak is a senior at Saginaw Valley State University majoring in Psychology.  She plans to work in the Neuropsychology field.   Chelsea has a strong interest in working with Traumatic Brain Injury (TBI) patients and those that have Alzheimer's/Dementia.  Chelsea serves as a volunteer in a facility for individuals with significant changes in memory and/or physical health.
Mary Jo Julin is a senior in the College of Nursing at Michigan State University.  Mary Jo plans to pursue a career as a Family Nurse Practitioner.  Mary Jo volunteers on the board for the local chapter of the Nursing Student Organization, local charities like Ronald McDonald House, Soup Kitchens and Mother Teresa House at Sparrow Hospital.  She is also active with MSU's Relay for Life.
Josh Storey graduated from Kirtland Community College with his Associate's Degree and is now a Junior at Saginaw Valley State University. He is pursuing a Social Work degree.  Josh volunteers at the Old Town Christian Outreach Center where he helps serve the needy.
Olivia Meadows is a senior in the College of Art and Design at the University of Michigan.  Olivia finds art as a medium of expression that can be used as a universal language across the world. She volunteers in the Detroit Public Schools providing art lessons to students and she also participates in Dance Marathon, an organization that helps children who need pediatric rehabilitation.
All of the applicants this year were deserving and it was difficult to choose the winners.  NCACU appreciates all that these students do to sustain the volunteer programs they dedicate their time to and appreciate their dedication to their academics.
"With classes, committees, and work hours scattered throughout the busy weeks, money is much harder to earn during the school year but it is quickly spent on expenses. Getting rewarded for civic responsibility and hard work in the classroom is extremely helpful. I am grateful that NCACU offers this scholarship program and I appreciate the members that support it."
-Cam Wilson
WE ARE NORTH CENTRAL!