What would you like to accomplish in 2015? What is on your Bucket List? NCACU is helping members set goals and achieve them in 2015!  Whether you want to pay down debt to get ready for retirement, get ready for kids in college or maybe just to have a little breathing room in the budget; or maybe you want to participate in an exciting adventure, or plan a special trip.  NCACU has the tools to accomplish it all.  Stop in and talk to a loan officer today.  Don't let 2015 end with the same things on the list!  Let us help you get them done!  Happy New Year!
NCACU members dug deep this year in support of our third annual Cookies for Santa promotion in all branches.  During November, members can purchase a paper cookie for one dollar or a Gingerbread man for five dollars to put on NCACU's plate for Santa.  All proceeds benefit local food pantries.  Our members continue to humble us for this promotion. So many of you give willingly–it is a pleasure to present checks to the food pantries on behalf of our membership.  We Are North Central!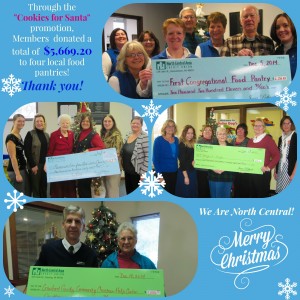 What's New
NCACU, with support from the membership, was able to award 6 local college students scholarships to help defray the cost of education.
Read More
Looking for a career change?  NCACU has a new job posting.  Check it out here: www.ncacu.org/careers
Read More