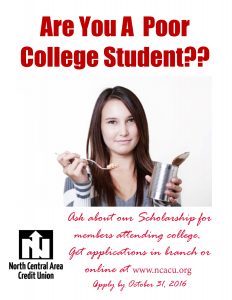 Members who are college students have the opportunity to apply for NCACU's Scholarship if they have completed at least 24 credit hours and are actively involved in volunteerism in their community.  Check it out Here!
SecurLOCK is pleased to announce that they have upgraded systems allowing them to contact members via cell, text or email in the event that suspicious activity occurs on your VISA credit card.  SecurLOCK will make attempts to contact you to verify purchases. If they can't reach you to confirm it is you making the purchases, they will shut your card down to protect you.  Remember, we will never ask you to verify your account number!  SecurLOCK may ask you to contact our service center.  As an important part of protecting you from fraud, please make sure your contact information is up to date on our records.
What's New
Members currently using our online bill pay system will need to take action to prepare for a system change that will make online bill pay part of our It's Me 24/7 System.  Yay! More convenience all in one location! Click…
Read More
We are sad to report that the Wendy's Breach is effecting several of our members. Our accounting department is working feversihly to get member cards closed and new debit cards reissued.
Read More