Did you know members can get FREE copies of documents? While we can't photocopy your 466 page life story, we can make a copy of an important document.  Just stop in any of our branches and ask for a copy. We also offer free FAX services for members who need to send an occasional FAX.  Notary services are also available in the branches.
As a member of North Central Area Credit Union, we should be your first stop ANYTIME you are shopping for a major purchase.  NCACU is Your Best Deal.  We have lower rates than most and match loan rates in our service area.  For everything from a new car loan, a credit card,  or even quick cash–there is no need to go anywhere else or to shop for special rates–we are Your Best Deal!!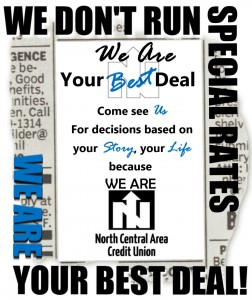 What's New
Members continue to win cash for being spotted showing their NCACU "Love."  Proud members simply display one of our stickers on their vehicle and employees will randomly "spot" them in our communities and reward them with a deposit to their…
Read More
NCACU recently hit the 5,000 hours mark for our MASH  (Mentor, Assist, Support and Help) Volunteers. 
Read More