By Mark Richter, CEO
At NCACU, we've been living out our people-helping-people mission. We continue to support many community organizations — those close to the hearts of our members, staff, and volunteers. We want to do what feels right in our community and assist those who need it most.
Giving back is the way to go!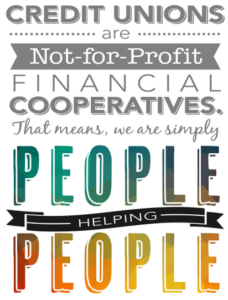 The causes we supported in 2023 include the Buck Creek Run, Angel Tree, Devos Children's Hospital, several Children's Assessment Centers, local food banks, local animal shelters, and much more. Employees are also invested in our efforts, donating their time throughout the community and giving their hard-earned money.
Recapping a few 2023 initiatives:
Buck Creek Run
This year, we saw 207 runners participate on July 1, 2023. We've been a major sponsor of this event since 2010 and look forward to supporting this cause for years to come.
Superhero September
More than $17,000 was raised during this unique event to support the children and families who use our local Children's Assessment Centers. We supported three centers: the Northern Michigan Children's Assessment Center (Roscommon and Crawford Counties), CAN Council (Arenac County), and Kent County CAC (Grandville). Children who come to these centers have been traumatized and are seeking care. Members donated at our branches or the Super Main Event, held on September 23, 2023, at the Hanson Hills Recreation Area in Grayling.
CU Kind was amazing!
On Monday, October 9, 2023, NCACU employees performed acts of service throughout the communities we serve. We joined more than 70 credit unions across the State of Michigan to highlight the credit union difference. Our staff volunteered at:
Arenac County Animal Shelter
Hand-2-Hand in Grandville
Hanson Hills Recreation Area
Historical Village of Houghton Lake
Roscommon County Animal Shelter
Roscommon County United Way
Village of Roscommon
We look forward to participating in this annual day of kindness. It's our chance to show neighborhoods throughout Michigan how much credit unions care!
Credit Union Day
On October 19, 2023, we celebrated Credit Union Day. Many members stopped to visit — undoubtedly, our member-focused structure is thriving! We also had a drawing for a Fall Cuddle Package, making it more fun for everyone.
Hoarding For The Holidays
Every year, we host "Hoarding for the Holidays" in November, raising funds for local food banks. Each branch selects an organization that can use the funds, with our goal of purchasing a truckload of food for each organization.  If you visit us in person, you can donate $1 or $5 — or whatever works for you. Participating members will see their name on an acorn or squirrel decorating our lobbies!
If you're not visiting a branch, call us! You can donate electronically through the Service Center.  Participating in this fundraiser is a great way to make sure your small donation is part of a much larger impact!
You're the reason we're in business.
We look forward to providing you with the services you need for the remainder of 2023 — and helping you reach your financial goals in the coming year.