Embracing the Credit Union Philosophy of People Helping People 
On October 9th, the Michigan Credit Union League will host the Second Annual CU Kind Day with the Michigan Credit Union Foundation. This nationwide day of kindness allows credit unions to exemplify the credit union philosophy of people helping people through monetary donations and volunteerism.  
Keep an eye out for our employees as they take part in spontaneous acts of kindness. NCACU will be present in all the areas we serve, and each branch will have a designated budget to make a positive community impact.   
We look forward to sharing the kindness and generosity that define NCACU!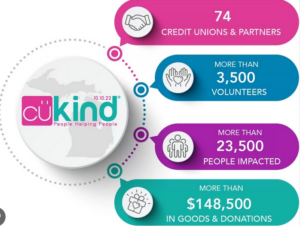 Our commitment is to give back to our communities, and CU Kind Day is another opportunity to demonstrate our depth of care.