How to choose the right vehicle.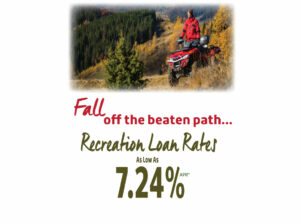 Whether it's upgrading your vehicle for a more reliable ride or gearing up for outdoor adventures, North Central Area Credit Union is here to help you make the most of fall. In this article, we'll explore the importance of choosing the right vehicle, the benefits of NCACU financing, and how you can have more fun behind the wheel this fall. 
Get a car you can count on. 
Your vehicle is something you depend on every day. Of course, fall leads us to winter and often unpredictable weather, from rain-soaked roads to ice and early snowfalls, so having a dependable vehicle is crucial. If you've been experiencing breakdowns or your current vehicle isn't meeting your needs, it might be time for an upgrade. 
At NCACU, we offer financing options that make getting behind the wheel of a reliable car, truck, SUV, or recreational vehicle easy. With us, you can find a financing solution that suits your budget for more confidence this fall. 
What's your preference?  
Trucks, Four-Wheel Drive Vehicles, Outdoor Recreation 
Fall is the perfect time to explore the great outdoors. Whether you're a fan of off-roading, late-season camping, or scenic color tours, having the right vehicle will boost your outdoor experience. 
What type of vehicle suits your outdoor interests? Trucks and SUVs are versatile and great for carrying camping or hunting gear, bicycles, or other recreational equipment. Four-wheel drive vehicles can tackle rough terrain, making them ideal for outdoor enthusiasts. And if you're into snowmobiling or winter sports, a vehicle with towing capabilities might be just what you need. 
At NCACU, we can help you finance the vehicle that fits your outdoor lifestyle. Our experienced loan officers will work with you to find the best option for your chosen vehicle, ensuring you have the freedom to explore the great outdoors. 
Have fun, drive confidently, and get ready for cooler weather! 
Fall is a season of fun and excitement; your vehicle should reflect that spirit in Michigan. Whether you're planning weekend getaways, apple-picking adventures, or enjoying the fall foliage, your car should be a source of enjoyment, not stress. 
With NCACU's financing options, you can save with competitive interest rates. We also offer optional protection plans to safeguard your investment. Consider adding GAP insurance and an extended warranty to your auto loan, providing security and protection against unexpected events. 
Choose NCACU for the financing: 
Once you've found the right vehicle, take advantage of NCACU for your financing needs: 
Fair Rates

: We offer competitive loan rates to keep payments affordable.


 

Personalized Service

: Our loan officers will work with you to understand your financial situation, tailoring a loan solution for your unique needs.

 
Quick and Easy Application

: Applying for an auto loan with NCACU is easy and convenient. Our

online application is simple

to complete. Or call or stop in — we're happy to assist however you prefer!

Local Expertise

: We have deep roots in the community, which means understanding the challenges and opportunities our members face. This local expertise allows us to provide more personalized advice and solutions.

Flexible Terms

: We're here to accommodate your budget and goals. Whether you prefer a shorter-term loan to pay off your vehicle faster or a longer-term loan for lower payments, we have options to suit your needs.

Member Benefits

: As a member of NCACU, you have access to a range of benefits, including discounts on insurance, financial education, and more.

Commitment to Financial Well-Being

: Our not-for-profit philosophy means our primary focus is your financial well-being. We're here to help you make informed decisions and achieve your goals.

 
This fall, make the most of your adventures. At NCACU, we're dedicated to providing you with the financing solutions you need to hit the road confidently.   
Click here to get started.