Our Official Family
Board of Directors
Vickie Kalmbach, Chair
Megan Barnes, Vice Chair
Gary Pedersen, Treasurer
Jim French, Secretary
Jim Bischoff
Ed Roginski
Travis Williams
Supervisory Committee
Frank Plume, Chair
Brenda Ensing
Dick Pedersen
Our Management Team
Jacci Pothoof, President/CEO
Don Lingerfelt, CFO
Tammy Schwalm, Senior Director
To contact any members of the Board or Supervisory Committee, please write to:
NCACU
ATTN: Board/Supervisory
P.O. Box 817
Houghton Lake, MI 48629
To contact our Management Team, please call (989) 910-5135 Option 2 ext 5119.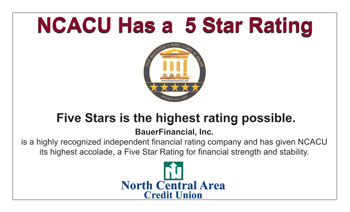 Bauer Financial, Inc. has been analyzing and reporting on the financial condition of the nation's banking industry since 1983. With our help, countless depositors successfully navigated their way through the savings and loan crisis of the '80s when others lost billions of dollars in uninsured deposits. Through the years Bauer Financial has earned the reputation of "the nation's bank rating service". Now, more than a quarter of a century later, hundreds of newspapers depend on our ratings for their readers. Over the years, federal and state regulators have referred thousands of inquirers to Bauer.