Join us on October 19, 2023. 
At NCACU, we believe in the power of financial cooperatives, and Credit Union Day is the perfect time to share our philosophy and history with you. We invite you to visit any of our branches on October 19th and experience the solidarity that makes credit unions unique. 
Celebrate with us! 
Join us for refreshments and goodies: It's our way of saying thank you for being part of our financial family. 
Learn more about credit unions. 
Our credit union philosophy will be central to our celebration. Discover how NCACU is dedicated to helping you achieve your financial goals while fostering a strong sense of community. 
Win a fall cuddle package!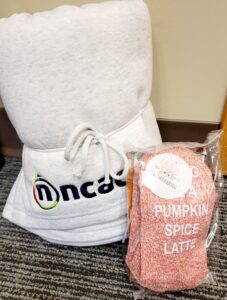 As part of our CU Day festivities, take a guess at our "Candy Jar," on display from October 16-20 at all branches. Make your best guess at the number of candies in the jar for your chance to win a Fall Cuddle Package. This package is the perfect companion for chilly autumn days, featuring a cozy NCACU blanket, a selection of hot cocoa, and other goodies. 
Celebrate community and cooperation! 
Credit Union Day is not just about banking; it's about the spirit of community and cooperation that defines credit unions. It's an opportunity to express our gratitude to you, our valued members, and share the principles guiding our mission. 
Visit NCACU on October 19th and celebrate Credit Union Day with us.