Be part of the NCACU Duck movement! Jeep owners started the fun, and we're hopping on! 
Look for NCACU Ducks throughout the community!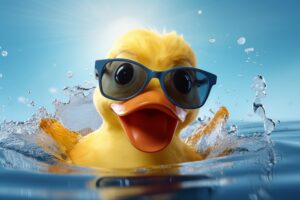 Starting this winter, we'll be sharing NCACU Ducks throughout our communities. It might be on your vehicle, at work, at a restaurant, at the gas pump, on a picnic table, or in another public space. If you find one, bring it to an NCACU branch!  
When you present your Duck, we'll donate $1 to that Branch's Mascot project. Our goal is to raise more than $1,000 in 2024 as we tie in with various seasonal campaigns. It's our way of saying thank you for your support — while helping others in our community.  
About The Branch Mascot Project: 
Each NCACU branch supports its local school district — raising money for a variety of school projects. Last year, we supported projects like Superhero September and local CAC Centers and hording for the holidays to help local food banks. It's a way for members to get involved and support our schools! Click here to learn more.  
What should you do if you find an NCACU Duck? 
When you're surprised by an NCACU Duck, bring it into your favorite branch, and we'll donate $1 in your name to our Branch Mascot project. 
Then, take a picture of your Duck and post it on our social media channels with the hashtag #duckduckNCACU. We'll donate another dollar! Members can also see, like, and comment on your donation. Then, put your Duck on your dashboard as a personal "gold star," and keep smiling as you drive down the road.  
Keep the spirit moving! 
Consider giving your NCACU Duck to someone who needs a reason to smile. They can post a pic on our social channels with the Duck…and we'll track its journey. Let's see how far your Duck can go in our state!    
What are the rules for NCACU Ducking? 
The only rule of NCACU Ducking is to put a smile on our friends' and neighbors' faces — and spread the word about our work in the communities we serve and charities we support.  
Stop in if you find a Duck, and we'll donate to our Branch Mascot Project. Or — share your Duck with someone else and put a smile on their face!  
It's always okay to re-gift an NCACU Duck — we encourage it! 
It's also okay to keep your Duck and have more fun. Take it along on a cruise, to the mountains, when dining out, or at a local event. Share a pic on social media and use the hashtag #duckduckNCACU. We'll make another $1 donation in your name! 
A couple of details: 
Look for NCACU Ducks anywhere in the community! 
Each Duck will have a QR Code for you to scan and learn more. It will also have a unique number, prompting us to make a donation at the branch.  
Ducking fits our people-helping-people mission! 
Credit unions have put their members first since their inception, and we believe in the people we serve. We're locally owned, and all the funds we raise will stay in the communities we serve.