Start your back-to-school journey with North Central Area Credit Union.
As the back-to-school season approaches, North Central is here for you every step of the way. With the challenges that come with this time of year, we offer an array of affordable and convenient solutions. From fixed-rate Visa® Credit Cards for a variety of expenses to Home Equity financing for college tuition, our services provide affordability, flexibility, and convenience.
Fixed-Rate Visa® Credit Cards: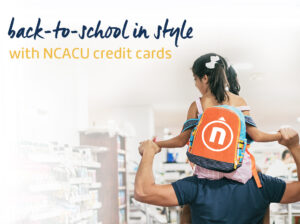 Our Visa Credit Cards offer savings and peace of mind, allowing you to stay on budget for school expenses.
Enjoy the convenience of making in-store or online purchases while saving with a competitive rate.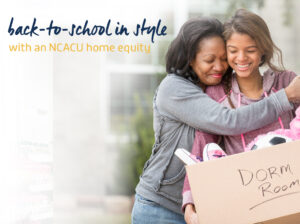 Home Equity Financing:
Take care of back-to-school needs, including college tuition, with the help of our Home Equity financing options.
Enjoy the convenience of flexible repayment terms and manageable monthly payments.
Affordability:
At NCACU, you always come first. Our not-for-profit structure allows us to offer lower interest rates and less fees compared to traditional banks.
Rest easy knowing that we focus on providing affordable solutions for all your back-to-school needs.
Flexibility:
We understand that every family's back-to-school needs are unique. That's why we offer flexible financing options tailored to your specific requirements.
Customize your loan for your budget and repayment needs, ensuring a stress-free borrowing experience.
We're ready to assist with the perfect solution for your family's budgeting goals.
Choose NCACU:
Trust NCACU to provide the affordable, convenient solutions you need this back-to-school season. Whether looking for a fixed-rate Visa Credit Card or exploring Home Equity financing for college, we're here to help you succeed.
Click here to learn more.